Published on:

Author name:

Dr. Sanusi Umar MD

Author Bio:

Dr. Sanusi Umar MD is the author of this article.

Last Updated on November 17, 2020 by Dr Sanusi Umar MD

A split ear is when an earlobe is severed into two halves that heal separately. Although trauma from lacerations, tears, bites, or other forceful motions or impact (such as motor vehicle accidents) are often causes of ripped ear lobes, the most common cause is from chronic use of heavy earrings in susceptible individuals. In this setting, the heavy earring very gradually erodes through the middle of the earlobe widening it gradually with no pain or skin breach is noted. The split can be partial or complete.  The condition is permanent unless surgically treated by a doctor. Having a torn ear, or split ear, is a common cosmetic problem for jewelry lovers. Fortunately, split ear repair surgery is a quick and simple in-office procedure at Dr. U Skin Clinic. Dr. Umar's skilled touch and suturing technique result in naturally shaped ear lobes and minimal scarring. Once the area is repaired and fully healed, you will be able to continue wearing your favorite earrings once again, and you'll no longer have to feel self conscious about your split earlobe.
How a Torn Ear or Split Earlobe Occurs
There are a few ways you can end up with a torn or split earlobe, and the condition is easily preventable. All causes of torn earlobes are a combination of wearing earrings and some type trauma they inflict.
The earrings you wear are too heavy. They weigh down the ear and stretch the piercing until the hole meets the outer edge of your earlobe, causing it to split completely.
The earring is torn by force out of the ear, causing it to split.
Your earrings are made of a metal you're allergic to, creating irritation and trauma, which can lead to a split ear lobe.
The ear was pierced improperly, too close to the edge of the lobe, which can more easily lead to earlobe splitting.
How To Avoid a Torn Earlobe
If you wish to prevent the need for ear split repair, we recommend you refrain from wearing heavy earrings that weigh down the earlobe, and wearing any metals you're allergic to. These two recommendations go hand-in-hand, as the type of metal also affects the weight of the jewelry. Be selective about choosing earrings that are made of safe, lightweight metals like gold or platinum.
In addition, if your personal style choices, professional wardrobe/costume, or cultural background requires you to wear large or heavy earrings, try to avoid getting them caught or pulled on. If you can, take your earrings out around small children and babies, when doing any fitness activity or strenuous activity, when doing anything that requires jumping, and when exposed to any situation in which you can foresee them getting caught or pulled.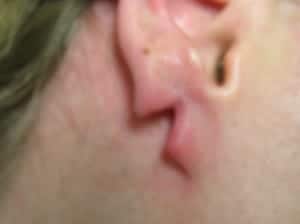 When an earlobe splits it will start to heal the two separate halves. This can create very noticeable damage, such is the case for this patient.
The Split Ear Repair Surgery: Process and Recovery
At Dr. U Skin Clinic, you'll find yourself on a fast and nearly painless path to repairing your split or torn ear. Every patient will be assessed as a unique case and the surgery will be tailored to your needs. The main variables include the depth and width of the split.
How Ear Split Repair Works
Anesthesia/Pain Management
First, Dr. Umar will apply a local anesthesia to the area. This is done by local injection of an anesthetic in the affected area. Because it is a local anesthetic, you will remain awake throughout the entire procedure, but you will feel no pain, only minimal discomfort at worst.
Tissue Excision
Next, Dr. Umar will have to "re-open" the wound that has formed and sealed itself over time. By excising a small amount of tissue surrounding the split area, he will create a fresh wound that can then be sutured and grow back together. He does this using a scalpel and other surgical tools.
Suturing
Dr. Umar uses thin sutures to stitch the open area of the torn ear back together. Both excision and suturing are done using specialized techniques with the goal of retaining as closely as possible, the earlobe's normal looking frames and margins, thus achieving the objective of a natural looking, and fully functioning earlobe with minimal scarring.
Duration
The entire split ear repair surgery takes approximately one to two hours.
Recovery After Split Ear Repair
There is no downtime and minimal pain post-procedure. Any pain you experience will be easily mitigated with an over-the-counter pain reliever like Tylenol. Immediately following the procedure, you will be able to resume your normal activity.
The recovery process is quick. Simply keep the area clean and avoid touching it as much as possible; there are no special soaps, medications, or creams required during the post-procedure process. One week after the surgery, your stitches will be ready to come out. This requires one return visit to Dr. U Skin Clinic to have your sutures removed.  Within six months of the procedure, you will notice only a fine linear scar as any evidence of your split ear repair surgery.
After A Ripped Earlobe Repair, Can I Wear Earrings Again?
Yes, you will be able to wear earrings again after your ripped earlobe repair. You must wait six to eight weeks to have your ear re-pierced. When you do so, be sure to tell the piercer to choose a different spot than before. If the same hole is pierced again, it is likely that your split ear would recur, as the healed tissue will not be as strong as healthy, undamaged tissue. It is also important to make sure the new piercing is not placed anywhere along the vertical line of the scar.
After My Ripped Earlobe Repair, Is It Possible for My Torn Ear to Recur?
Yes, after your ripped earlobe repair, it is possible for it to tear again. In fact it is a common phenomenon — the reason why we stress the importance of choosing specific jewelry, weight, and metals if you feel you must re-pierce your ear. It is possible to re-pierce and never have a split ear happen again, however you must be committed to taking the proper precautions, as described above.
Dr. U Skin Clinic Ear Repair Surgery Photos Before and After
These two patients had widely varying degrees of damage to their ear lobes, but at Dr. U Skin Clinic both were treatable (despite the advanced degree of difficulty in treating the latter patient). You can see that there is very minimal scarring in the after photos; in both cases you cannot tell they previously had a split earlobe or any malformation.
Dr. U Remove a Keloid in a Ripped Earlobe In His Manhattan Beach Los Angeles Patient
The below case was particularly complex. She first developed a split earlobe, which then grew keloid scar tissue. Prior to this successful procedure, she'd had an unsuccessful repair at another plastic surgery clinic. Dr. Umar was able to remove the keloid and repair the torn earlobe with beautiful results. Keloid recurrence was prevented by use of radiation therapy.
Contact Dr. U Skin Clinic for a Free Consultation
If you're concerned about your torn ear, but don't know if surgery is right for you, contact Dr. U Skin Clinic for a cost-free, commitment-free consultation. Dr. Umar will discuss your cosmetic concerns and the best treatment for you.
Frequently Asked Questions: Split Ear Repair Surgery
Will a ripped earlobe repair itself?
A ripped earlobe will generally heal the two halves separately. So the answer is no, it will not repair itself back to its whole form without help from a surgeon.
I used to wear large plugs in my ear, and now have a large hole in my earlobe with sagging skin. Is this correctable through split ear repair surgery?
Yes, this type of earlobe deformity is possible to reverse with surgery. What's required of the procedure is different and slightly more extensive than a regular ear split repair. This is because the damage and trauma to the earlobe is usually far more progressed with plugs. Contact us for a free consultation to discuss your options.
Is it safe to have my ears double pierced after a torn ear procedure?
Yes, it is safe to have multiple piercings, even after surgery, as long as none of the piercings align with the surgical scar. Also keep in mind that more piercings will pull harder on the earlobe, so be careful about the weight and metal material of the jewelry you choose to wear.
What is the split earlobe repair cost?
The cost for a split earlobe varies depending on the size and difficulty of the procedure. However, you can be assured Dr. Umar's prices are very competitive and will not break your bank. To look further into payment for this cosmetic procedure, click here.
Nobody should have to live with unwanted split earlobe scars. If you have more questions about treatment, you can ask Dr. U by submitting them through our online form:
Further Reading:
See other cosmetic procedures that involve the earlobe.