Published on:

Author name:

Dr. Sanusi Umar MD

Author Bio:

Dr. Sanusi Umar MD is the author of this article.

Last Updated on April 9, 2021 by Dr Sanusi Umar MD

Dr. Umar provides many skincare services at his Manhattan Beach, Los Angeles clinic, including acne removal, nonsurgical facial contouring, stretch mark removal, varicose vein treatment, muscle blocking, age spot removal, mole removal, and many more. Due to the wide selection of procedures and the varying degrees of needs, each client and case is treated uniquely. For every procedure, there may be multiple steps that need to take place, and each of these has their own individual pricing requirements. For example, when coming in for a dermal filler procedure, the type and quantity of the filler being used will affect the overall price. This is the same for any muscle blocking services such as Botox and Dysport.
Consultations:
Dr. U offers consultations both in-office and online to help you assess your skincare needs and wants. During this consultation, you will discuss the options of treatment and their varying costs.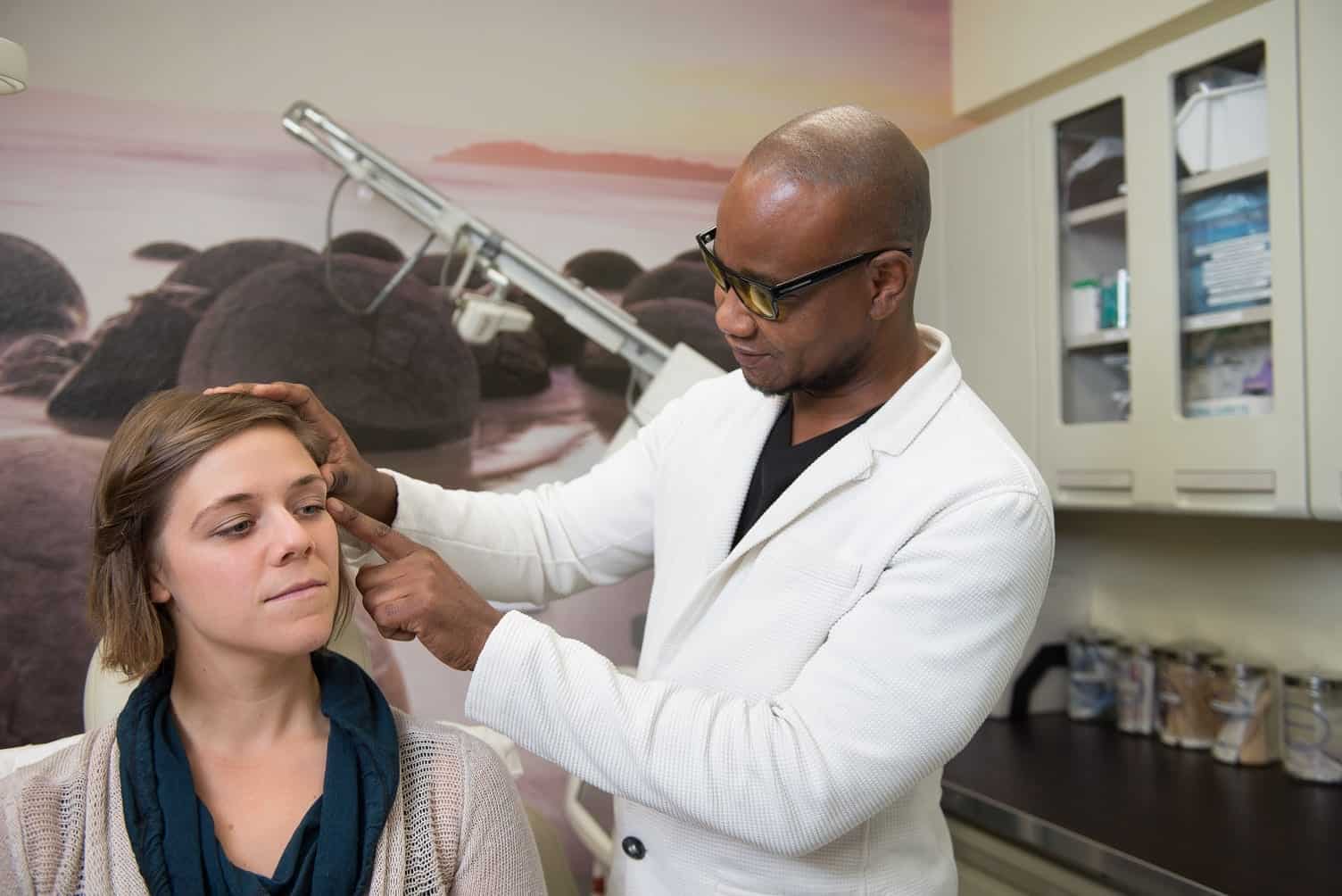 Our in-office consultation has a small fee that applies to your future procedure. If you wish to fill out our free online consultation (reviewed by Dr. Umar himself), you can find our online consultation form here.
Discounts:
If you're on a budget (as many of us are), there are two easy ways in which you can achieve your desired skin treatment at a discounted price. These include:
Placement in our stand by list: This means if we have any cancellations we will call you to fill the spot.
Granting us rights to your photographs and videos of the procedure: This means we can use your special skincare case on our website and in publications. There are two options for this with the discount increasing each time.

Option 1: You grant us rights to photos and videos with voice, however, the face is blurred. As this is a skin procedure, this will only work for some cases.
Option 2: You grant us rights to everything.
If these options appeal to you, or if you are interested in any other potential pricing specials/promotions, please fill out this form or call our office at 1800-499-DRUCLINIC.
Payments:
Dr. U's office will accept all major credit cards in addition to wire transfers and cashier's checks.

Generally speaking, the new advances in skincare such as lasers and fillers are very affordable. However, if you need multiple treatments for your condition or choose to have multiple procedures done, it may be worth your time to look into financing. Dr. U Skin Clinic works exclusively with the financing company MLEND FINANCE. They work with our patient's financing and offer no-interest payments for up to one year. If interested in a loan, their online application form is available here: http://www.mlendfinance.com/Application.html
*Note: All current prices are subject to change without prior notice. Please inquire about pricing during your consultation with Dr. Umar.
These patients gave Dr. Umar permission to use their photographs and videos of the procedure, and in exchange have received discounted services:
Lip Enhancement in Los Angeles: The lips are one of the prominent facial features with full lips not only being desirable, but also rejuvenating. As we age, lips tend to lose their plumpness and volume, and will also start to develop winkling.