Published on:

Author name:

Dr. Sanusi Umar MD

Author Bio:

Dr. Sanusi Umar MD is the author of this article.

Last Updated on August 29, 2021 by Dr Sanusi Umar MD

Way too many men with pattern baldness believe that they have no choice but to just accept their hair loss fate and the genetic cards they are dealt with. Here is a patient story from our clinic about a 60-year-old man who actually went against the grain. Remaining super bald for the rest of his life just didn't feel right.  Yet shaving his entire head also felt like the wrong choice. After wearing a hairpiece for a while, he felt inauthentic and stopped. The final option to consider was a severe baldness hair transplant surgery. Yet doctors kept telling him that he could not qualify as a candidate to improve his coverage.

This gentleman wanted a hair transplant badly and even sought consultations from multiple service providers. However, all of them declined him as a candidate, citing the following reasons:
His baldness was impossible to fix 

He did not have enough donor hair to render a credible-looking form of coverage
However, despite his odds, he would not take NO for an answer. 
As a top-level, go-getter entrepreneur, this patient's gut conviction told him to not give up and pursue what he wanted for himself. After ten years of researching hair transplant approaches, he finally discovered the work of Dr.U, a world-leading expert who is able to use body hair to erase the signs of hair loss for all. He applies his specialization to different stages of baldness, and people who need repair work.
For a Free online consultation form: https://dru.com/hair-free-consultation/Schedule a VIRTUAL (VIDEO) CONSULTATION using this link: https://doxy.me/druhair…
With his revolutionary Dr.UGraft Zeus system, he is able to expand the patient's donor resources by including other hair types. This barrier-breaking technology is designed to safely harvesting any type of hair follicle so that it survives, thrives, and produces a healthy, permanent growth yield.
In other words, since Dr.UGraft Zeus is built to attain the highest graft quality from all regions on both the head and body, severely bald patients do not have to rely on their remaining hair as their only source of donor grafts.
Before Photos – If Norwood 8 Existed, This Patient's Hair Loss Would Be It
Hair transplant surgeons diagnose the different stages of male pattern baldness using a chart called the Hamilton-Norwood scale, with the worst-case scenario being Norwood 7. 
This patient came to us with an even more advanced state of hair loss than this in part due to the presence of retrograde alopecia where baldness also affects the nape of the neck below the remaining wreath of hair at the base and sides of his head.
He jokes that his condition is a Norwood 8.
According to Dr.U, if a Norwood 8 category were to exist, it would include retrograde alopecia, loss of hair from the nape, upwards towards the scalp. 
The Difference Made Possible by Dr.UGraft Zeus
Life for this gentleman turned around for the better after we accepted him as a patient at the Dr.U Hair and Skin Clinic, the birthplace of the Dr.UGraft Zeus FUE hair transplant system.
Unlike most other clinics which completely rely on the scalp as the only source of donor hair grafts, our technology makes it possible to successfully source new resources on other regions of the body. 
Fortunately, this patient had enough hair follicles from multiple regions to create the appearance of full coverage. One or two areas alone would not be enough with his below-average beard and body hair. He was prepared to undergo two sessions for his overall procedure. 
Procedure Photos – Body Hair Extractions With Dr.UGraft Zeus
For this procedure, we harvested non-head hair donor grafts [1]  from areas such as:
chest/torso

arms

leg

facial beard area

scalp
Admittedly, one of the myths in the field of hair transplantation is that body hair does not work as donor grafts. However, this is only true if these hair follicles do not survive [2]
Here, at the Dr.U Hair and Skin Clinic, we did some serious rethinking to identify the top factors which undermine the survivability of FUE hair follicles derived from areas outside the main areas of the scalp. 
We then engineered the feature sets of the Dr.UGraft Zeus technology to overcome each of these specific issues.
According to our observations, we discovered that skin thickness is the leading contributor to graft transection (i.e. damage) during surgery. Different skin thicknesses will affect how well the punch performs. With extremely thick or soft skin, there is a much higher risk of damaging the hair follicle graft. 
How thick a person's skin is, of course, cannot be changed. However, what can be altered is how the punch behaves. The Dr.UGraft Zeus system is the first to make use of this fact. 
For this patient, our technology was perfectly equipped to navigate the different skin thickness terrains of each and every one of his donor regions to produce healthy, robust grafts that would then thrive on his head.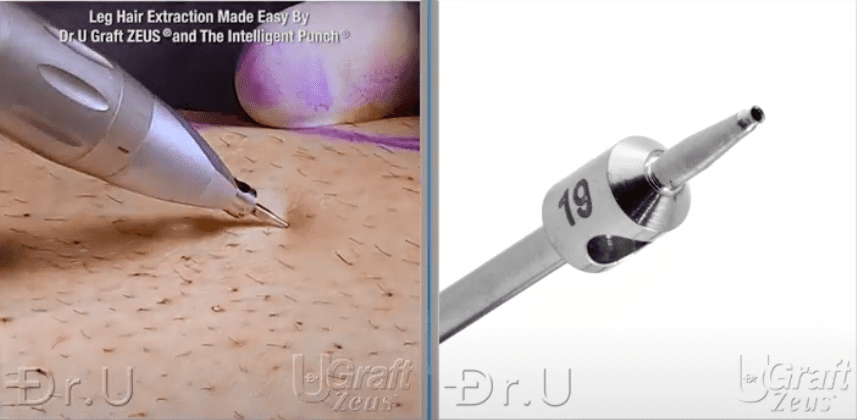 Dr.U busy at work, harvesting leg hair follicles using his Dr.UGraft Zeus technology and his Intelligent Punch
Phase Two – Insertion of Donor Grafts
Harvesting the complete set of donor grafts for this procedure was only half the battle. The next phase required the careful and detailed insertion of these follicular units to replicate the patient's own natural hair growth patterns.
Dr.U studied in detail the remaining region of the patient's own hair to determine the inherent rules that would govern how the grafts should be placed. These factors included:
density

direction

orientation

angle
Dr. U's overall planning for the final insertion of grafts is shown here.
His final design includes the spiral-shaped whorl which was found to be off to the far right-hand side of the crown.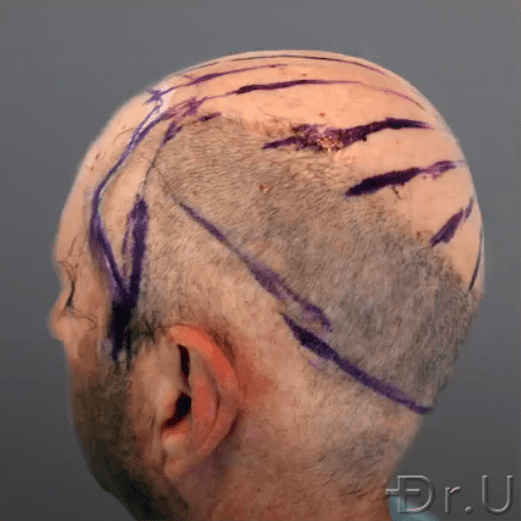 Dr.U marks off the directions and patterning of hair growth for this patient's final outcome
BEFORE AND AFTER SECOND SURGERY – Severe Baldness Hair Transplant
At just 8 months following his procedure, this patient experienced astounding signs of new growth. His stage of progress at this point even exceeds the yield of many head-hair only hair restoration cases at this point.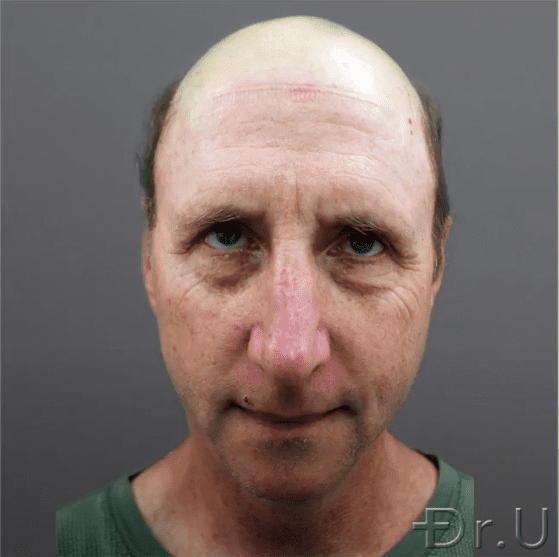 Happy Norwood 8 Hair restoration
RESULTS AFTER FIRST SURGERY – COMPLETE HAIR LOSS
The FUE donor grafts derived from his face, head, leg, arm, and torso were able to survive and are doing amazingly well in their new locations on the recipient areas of this patient's head.
At just eight months, he is thrilled with the near-to-full coverage that he wanted for so long. However, the best is still yet to come with more growth expected in 10 more months at his eighteen-month milestone with the fullest extent of his final yield.
Learn more about his overall experience with his Dr.UGraft Zeus body hair-to-head transplantation by clicking the video below.
VIDEO – Worst-Case Baldness Was No Problem, Thanks to Dr.UGraft Zeus
In his own words, the patient is proud to report:
I waited a considerable amount of time to see if the technology would get to a level that would work for me. My condition is so extreme that nothing out there existed, so my search was at least ten years before I decided to do something. Because why do something unless it's got a high probability of success. And this had the highest probability, and the probability manifested in the results. I'm happy. This is quite the impressive results, to say. I would definitely do it again. 
This patient's story is just one of many severe baldness patient cases that our clinic has conquered using our Dr.UGraft Zeus technology. We believe in breaking new barriers through relentless questioning to find new truths that will change peoples' lives for the better. Despite the fact that many insisted that body donor hair is weak and inadequate, we never took this conventionally held belief at face value. We believed that other viable possibilities existed besides using scalp hair alone. We not only proved that our theory was right but we also created a results-oriented hair transplant system that reversed all types of challenging hair loss scenarios with an impressive and ever-growing roster of happy patients in the end.
If you are struggling with severe baldness and would like to learn more about the possibility of a hair transplant procedure, click the button below for a free and personalized online consultation.
Frequently Asked Questions – Using Body Hair For Severe Baldness Hair Transplants
Can body hair grow longer when placed on the head?
Body hair will always grow and behave the same way as it did in its original location. When inserted in the scalp, it will remain the same length due to the DNA in the hair follicle cells which remains unchangeable. In the case of the patient described above, leg and arm hair will continue to remain short. Also, beard and head hair will grow to their original programmed length.
What are the other options available besides hair transplant surgery for men who are severely bald?
If hair transplantation is not an option, men who are severely bald may want to consider wearing a hairpiece or shaving their entire scalp. A person's final decision should really depend on what they feel most comfortable with.
At what point does body hair become a necessity for surgically reversing the signs of baldness?
According to Dr.U, scalp hair can be harvested for Norwood levels 1-5. However, at the Norwood stages of 6-7, there are no longer sufficient quantities of donor hair left on the head to produce significantly improved forms of coverage.
References
Umar Sanusi. Body Hair Transplant by Follicular Unit Extraction: My Experience With 122 Patients. Aesthetic Surgery Journal 2016
Umar Sanusi. Hair transplantation in patients with inadequate head donor supply using non-head hair: report of 3 cases. Ann Plast Surg 2011; 67(4):322–5.
Further Reading
Beard hair helped this man overcome his advanced baldness, making him almost unrecognizeable
Learn about another Norwood 7 patient of Dr.U who transformed his severe baldness with Dr.UGraft Zeus technology