Published on:

Author name:

Dr. Sanusi Umar MD

Author Bio:

Dr. Sanusi Umar MD is the author of this article.

Last Updated on June 10, 2021 by Dr Sanusi Umar MD

Fortune Business Insights, a market research firm, released a report entitled, "Dermal Fillers Global Market Analysis, Insights and Forecast, 2019-2026." 

It is predicted that the worldwide market for dermal fillers will increase at a CAGR of 7.8%. In 2019, the market in North America alone was worth $1596.8 Mn and is expected to continue growing and leading global demand. 

Forecasts also support increased growth for dermal fillers in Asian countries. Men and women alike are turning to dermal fillers as a non-surgical means for restoring tissue volume and improving the youthfulness of their appearance. Depending on the material type, certain dermal filler products can even improve facial contours like the nose, cheeks and chin, without the need to go under the knife, so to speak. 

Furthermore, consumers are also interested in the general longevity of these products, compared to the more short-term effects of over-the-counter purchases such as creams, lotions, serums, and DIY at-home devices which are made available online and in stores. 

Dermal fillers have also been shown to have high safety profiles, another major consideration by individuals who choose this approach. In addition to demand, the global market growth for dermal fillers is also attributed to government support in different countries for RandD initiatives.
Hyaluronic Acid Dermal Filler Services in Manhattan Beach Los Angeles:
Juvederm (pronounced as Juvaderm or Juvoderm), Restylane, and Belotero, are well-known, FDA approved, injectable, hyaluronic acid dermal fillers. These treatments are used to reduce lines and help the face to regain volume and fullness. As we get older we lose subcutaneous fat in our faces. shrunken lips, smile lines or smile wrinkles and crow's feet appear more because our facial muscles are firmly attached to our facial skin which becomes wrinkled with every movement. Other factors that affect the facial skin include sun exposure, heredity, and our lifestyles eg. smoking). The appearance of these give away signs of aging coincides with the loss of our own natural hyaluronic acids that is located in our skin. Little wonder, hyaluronic acid injections into the skin as a corrective measure has become a natural solution for skin wrinkles. These hyaluronic acids dermal fillers are able to give remarkable, natural-looking results. It is ideal for patients who want subtle improvements without invasive forms of treatment. The effects are not permanent and injections need to be administered regularly.
What Are Hyaluronic Acid Dermal Fillers?
Hyaluronic acids – HA  (Also called hyaluronan or hyaluronate) occur naturally in the skin and throughout the body tissues. It is part of a family of complex carbohydrates called glycosaminoglycan. The hyaluronic acid used as a dermal injectable filler and is either derived from rooster combs or engineered in the labs. In some cases, hyaluronic acid used in dermal fillers is chemically modified (cross-linked) to make it last longer in the body. This carbohydrate polymer has been nicknamed, the "goo" compound, which is commonly found in the extracellular matrix. It is also a major constituent of synovial fluid found in joints. Hyaluronic acid dermal fillers enable the fluid to function as a lubricant and contribute to its viscosity. Additionally, to the joints, hyaluronic acid is also found in the skin, muscles, and tendons.
When injected Hyaluronic acid dermal fillers act like an inflated cushion to support facial structures and tissues that may have lost volume or elasticity due to normal aging. They also bring water to the surface of the skin to keep it looking fresh and supple.
Hyaluronic Acid Dermal Filler Lip Injection Before After Photos In a Hermosa Beach Los Angeles Patient
If you have a question about Juvederm treatment, do not hesitate to Ask Dr. U at no cost.
What Areas of the Face Benefit from Hyaluronic Acid Dermal Fillers?
Juvéderm, Restylane, and Belotero treatment is beneficial for:
Laugh lines – Lines from the nose to the mouth (nasolabial fold)
Jowl Lines – Lines from the mouth to the chin (melomental fold)
Lines above the upper lip and lipstick lines
Indentations in the corners of the mouth
Lip Augmentation – In the lips for volume and definition
To restore volume to cheekbones or cheeks
In some situations, under the eyes
To fill out the backs of the hands and make veins look less prominent
And in some situations, it's used for under the eyes wrinkles or tear troughs (Although a better filler for this area is Radiesse)
Different Types of Hyaluronic Dermal Fillers
Juvederm

Restylane

Belotero

Belotero Soft
Juvéderm
Juvéderm is a "cross linked dermal filler. Cross linking is a process which chemically binds the individual chains of the acid so it is changed into a gel, which lasts much longer once injected inside the face. Compared to other hyaluronic gel products, with granular consistency out there, Juvederm products have a smooth consistency gel. Juvederm products are smoother with manageable gel because they are developed using a Hylacross technology.
As a dermal filler, Juvederm is used to fill in the deep creases in the skin, particularly the parenthesis around the mouth, also known as nasolabial folds. It can also fill in recesses in the skin's surface formed by acne scar tissue. Since lips tend to lose their volume with age, Juvederm injections can be used as a lip enhancement to make them more plump and full.
Hyaluronic Acid Dermal Filler Juvederm Lip Injection Before After Photos In a Palos Verdes Los Angeles Patient
Restylane
Restylane is also marketed and sold in more than 65 countries outside the United States where it has been used in more than ten million procedures. Restylane is a gel of non-animal sourced hyaluronic acid generated by Streptococcus species of bacteria. It is produced biotechnologically by natural fermentation in a sterile laboratory environment.
Restylane is formulated as a clear gel and uses a dual mechanism of action to correct moderate to severe wrinkles and folds. Upon being injected beneath the skin's surface, Restylane gel integrates into dermal tissue then attracts and binds to water molecules to help maintain volume.
Restylane is ideal for use in lines around the mouth areas.
Belotero
Belotero dermal fillers come in three different types, soft, basic, and intense. The three different types of Belotero differ according to the concentration of hyaluronic acid and the width of the needle used for injection.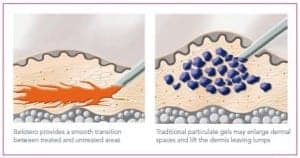 Belotero Soft
For superficial lines in fine skin areas like crows feet and upper chest area
HA concentration= 20mg/ml
30G Needle
Belotero Basic (approved in the US)
For shallow lines (e.g. around the mouth)
Can also be used for the lips in the vermillion border
HA concentration 25 mg/ml
27 G Needle
Before and After Belotero Dermal Filler Treatment for Crow's Feet in A Manhattan Beach Los Angeles Patient
This Los Angeles patient used Belotero to reduce the appearance of the crow's feet beside her eyes and achieved a younger look.
Belotero Intense
For deep lines (e.g. nasolabial folds)
Can be used to enhance lip volume
HA concentration 25.5mg/ml
27 G Needle
Belotero is a thinner hyaluronic acid filler than others and it weighs less. A proprietary technology known as Cohesive Polydensified Matrix is used to make it. The last injection solution is given a really high degree of elasticity, a process which is required. So once it is injected, it distributes much more evenly and seamlessly between treated and untreated areas. Other hyaluronic acid fillers can raise the dermal layer and clump under the skin.
Before and After Hyaluronic Acid Dermal Filler Treatment with Dr. U in Los Angeles Patients
Before and After Juvederm Treatment for Fuller Lips In A Manhattan Beach Los Angeles Patients
Following Juvederm treatment for her lips, this Los Angeles patient was able to achieve a fuller look.
Before and After Belotero Dermal Filler Treatment for Smile Lines and Crow's Feet In A Marina Del Rey Los Angeles Patient
This Los Angeles patient sought out Belotero dermal filler for smile lines and had found great success.
Precautions to Take When Using Hyaluronic Acid Dermal Fillers
Dermal fillers should not be administered by anyone who isn't a licensed health care practitioner or supervision. Patients need to let the physician know if they're taking substances that may cause bleeding and bruising to prolong like ibuprofen, or naproxen, or aspirin. There may be some Inflammation after dermal fillers are injected. As a result of the high risk of infection, caution is recommended for patients on immunosuppressive therapy. Safety has not been established for women who are pregnant, breastfeeding, or people under 18 years old.
There are no studies that show safety for patients with a pigmentation disorder, scarring, and pigmentation (e.g., hypertrophic scarring or keloid formation). Filler injections require very minimal downtime, allowing patients to return to work and their normal activities directly following treatment. Yet for the first 24 hours, individuals may be instructed to refrain from strenuous activities and excessive sun or heat exposure. Some of the risks of facial injections are lumps (granulomas/nodules) which are potential risks associated with Juvederm.
What are the possible side effects of hyaluronic acid dermal filler treatment?
Dermal fillers should not be used in patients who have severe allergies marked by bacterial proteins. If there is an active inflammatory process or infection at specific injection sites, treatment should be deferred until the underlying process is controlled. In addition to possible allergic and immune reactions, other side effects for dermal filler treatments include:
Redness
Pain/tenderness
Firmness
Swelling
Lumps/bumps
Bruising
Itching
Discoloration
Risk of infection
These side effects for hyaluronic acid dermal fillers usually go away within a week. If these side effects continue after a week, consult your doctor.
Hyaluronic Acid Dermal Fillers (Juvederm, Restylane, Belotero ) Treatment Frequently Asked Questions
How long do hyaluronic acid dermal fillers take to set in?
Hyaluronic acid dermal fillers like Juvederm and Restylane work immediately but can take a few days to "settle into" its final shape. It often looks even better after a day or two. Many patients are surprised at how much better they look right after their treatment.
Can I reverse the effect of hyaluronic acid fillers like Juvederm, Restylane, or Belotero If I don't like the result?
If you do not like the result of your hyaluronic acid filler injection be it Juvederm, Restylane or Belotero, you can have your doctor reverse the effect by using injecting a substance called hyaluronidase. Hyaluronidase is an enzyme that breaks down to literally dissolve the hyaluronic acid dermal filler. For this reason, hyaluronic acid fillers a preferred by novice doctors who would have the chance to reverse the effect of their dermal filler injections in the event of mistakes or misadventures and by even experienced injectors who would make the occasional mistake or be faced with a patient whose expectations are not met.
How long do hyaluronic acid dermal fillers last?
Typically, hyaluronic acid dermal fillers last for a couple of months to almost a year, they are only temporary. The lasting period will depend on what dermal filler is being used. The dermal filler Belotero usually last between 6 to 12 months. The dermal filler Restylane can last anywhere between 3 to 9 months when considering how much was used and how quickly it metabolizes in someone. Juvederm dermal fillers can be expected to last up to 6 to 9 months.
For optimal results, additional treatment sessions are encouraged. A hyaluronic acid dermal filler or injectable filler treatment entails a series of tiny injections under the skin's surface – at the sub-dermal-dermal levels. The amount administered depends on the depth and size of the skin defect or wrinkle.

What is the best dermal filler for smile lines?
Juvederm is definitely one of the best dermal fillers for smile lines. Another good treatment would be Radiesse which is not a hyaluronic acid-based dermal filler.
Do dermal fillers work well under the eyes?
Although hyaluronic acid dermal fillers can be used here, they have a tendency to create a bluish hue which can look like a bruise and even worsen the appearance of dark eye circles. This is because of a physics phenomenon called "Tyndall" effect. For this reason, Radiesse which is a white colored calcium hydroxyapatite based dermal filler is a better fit for the under eye area.
What is the cost of a hyaluronic acid dermal filler treatment?
Dermal fillers work quickly to give you that wrinkle-free, youthful look. The cost is dependent on the type of hyaluronic acid dermal filler being used.
The cost of Juvederm treatment: Juvederm comes in different syringe sizes and the cost increases with the syringe size. It ranges from $500 to 1200 (depending on the clinic)
The cost of Restylane treatment: It also depends on the volume used and could range from $500 to 900 (depending on the clinic)
The cost of Belotero treatment: It also is influenced by the volume used. It is more expensive per quantity than the other hyaluronic acid fillers. But if used for its specific indications (ie. very superficial wrinkles), very little amount is needed per treatment area. The cost per syringe ranges between $600 and 1000 (depending on the clinic)
Can hyaluronic acid dermal filler treatment be used for filling in scars?
Anyone who has experienced recessed scarring knows that it is not the desired look. Luckily, hyaluronic acid dermal fillers work very well for people with acne scars. Our clients have received great results from fillers on very deep and extensive facial scars.
What is the difference between a dermal filler like Juvederm and Botox?
Skin fillers like Juvederm work to add volume to facial areas like your laugh lines and lips, while neuromodulators like Botox block the action of your nerves and muscles. With Botox, the muscles in your face that cause wrinkles be targeted. Essentially, you are freezing them as a way to prevent the age creases from forming. If you choose a skin filler treatment like Juvederm, the substance will be injected into your skin to soften some of the wrinkles that you already have. The Juvederm treatment will also plump up your face, creating a more youthful look. Botox lasts from three to six months. Facial fillers like Juvederm can last from a few months to a few years.
If you have more questions about dermal fillers, use the button below to submit them to Dr. Umar:
Further Reading:
Learn how to treat laugh lines, also known as crow's feet.
Read about different ways to get rid of wrinkles.