Published on:

Author name:

Dr. Sanusi Umar MD

Author Bio:

Dr. Sanusi Umar MD is the author of this article.

Last Updated on February 6, 2021 by Dr Sanusi Umar MD
Hair Transplants for Female Traction Alopecia Using Dr.UGraft in Los Angeles
Hair Transplants for Female Traction Alopecia Using Dr.UGraft™ in Los Angeles: Hair loss for women can occur at any age and can be caused by various factors like hormones, genetics and chemical imbalances. Generally, signs of thinning and balding manifest in scattered areas on the scalp. And when hair loss occurs in the temple area, it can be accredited to grooming practices that pull on the roots of the hair forcefully. This condition is known as traction alopecia. Common practices like tying your hair in a bun or braiding it can contribute to the extent of the hair loss. In this post, you can examine the details of a hair transplant that used 200 Dr.UGrafts to fill in the patient's balding temple area.
The patient is thrilled with her result. Read more about her case by clicking this link: https://dru.com/hair-surgery/hair-transplants-for-female-traction-al…
Female Hair Loss at Temples – Before Photos
In this case of traction alopecia, the patient had curly hair and was used to wearing it up or tying it in a bun. And over a long-term period of using these types of hairstyles, she began to experience gradual permanent hair loss. The photos below highlight the thinning and balding of the temple area.
Although hair loss may seem like a more prominent problem for men, women are just as likely to experience balding or thinning hair.
After a consultation with Dr. U, this patient was excited and looking forward to the personalized treatment that was suggested. Recent studies from the International Society of Hair Restoration Surgery estimate that more women are being treated for hair loss now, than in the past decade.
How to Treat Traction Alopecia Using 200 Grafts – Dr.UGraft

™

Procedure Photos
For female patients who suffer from traction alopecia, it is imperative to seek the proper diagnosis from an expert on hair disorders such as Dr. U. Improved surgical techniques and new technology such as the Dr.Ugraft system are transforming the hair transplant industry. In this patients case, Dr. U was able to recover and fix the temple area by transplanting 200 Dr.UGgrafts. The meticulous nature of this procedure allowed for exceptionally natural looking results with minor recovery time when compared to conventional procedures.
The following image displays how the FUE tool works to extract individual hair follicles to avoid any significant scarring.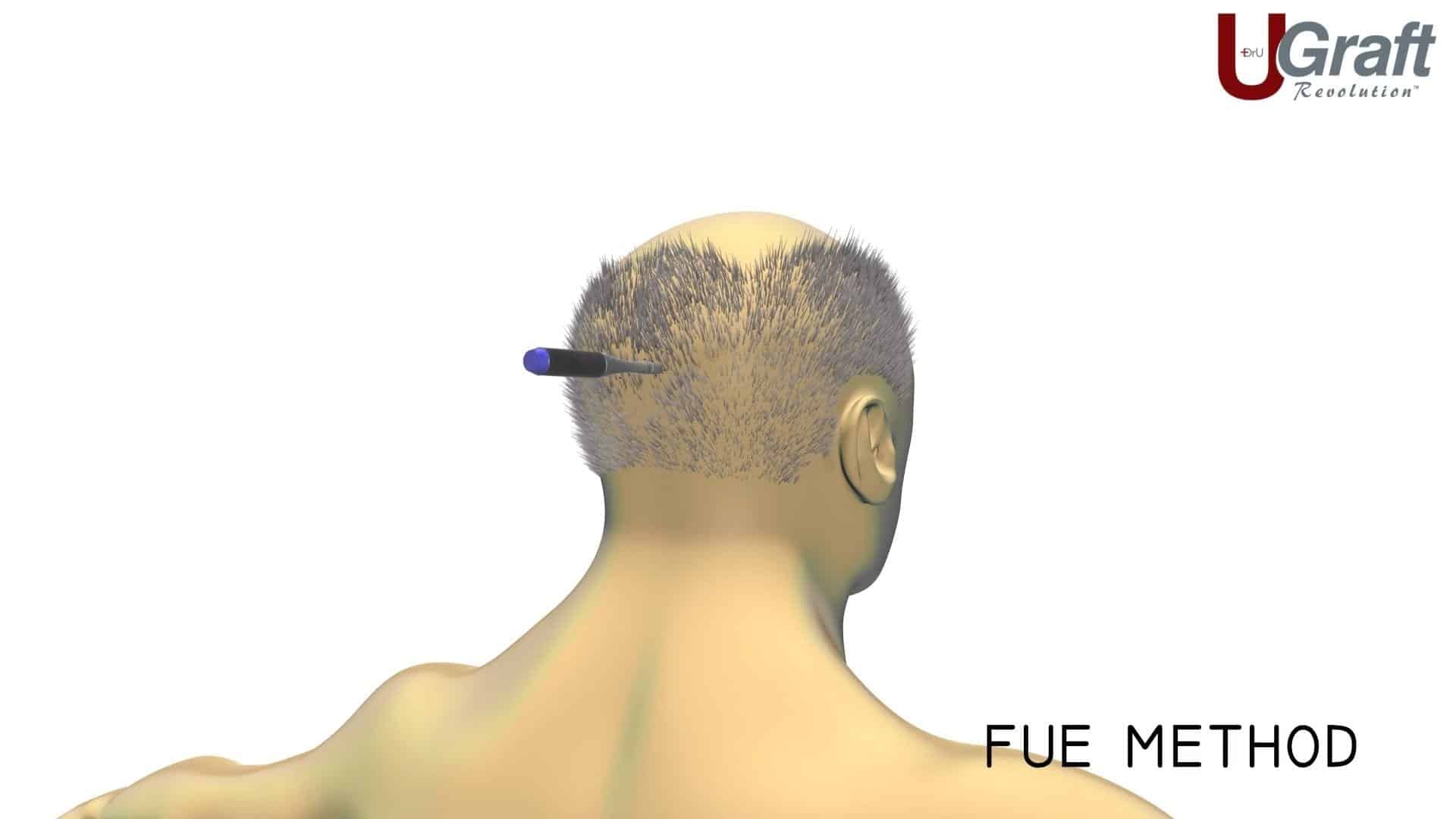 Traction Alopecia Treatment Results – Before and After Photos
Before seeing Dr. U, this patient completely stopped wearing her hair up in order to avoid exposing the balding temple area. But after the procedure was completed, she was now able to implement any hairstyle she desires. She now frequently wears her hair up without any concern for exposing bald spots – because they are now non-existent. You can see the positive results from the photos below:
Patient Results Video: Hair Transplants for Female Traction Alopecia
Watch the video below to hear the patient describe in her own words how she benefited from a Dr.UGraft procedure for her female traction alopecia.
This case shows how Dr. U is able to implement his FUE technology in order successfully cover any thinning or balding areas. The result is a natural and embarrassment free hairline.
Think you might have traction alopecia? Schedule a free consultation with Dr. U today!
Dr.UGraft

™

Hair Transplants for Female Traction Alopecia: Frequently Asked Questions
What is the best solution for female hair loss at temples?
Contrary to popular belief, men and women experience hair loss in completely different ways. Unlike their male counterparts, a female who is experiencing hair loss must be tested to learn the underlying cause and the best protocol to follow. Therefore, because of the variety of causes, there is no "best solution" when faced with hair loss at the temples. When working with Dr. Umar he will create the best treatment plan for your needs.
Can traction alopecia be reversed?
There are a few different treatment options to combat and conceal the effects of traction alopecia. The most popular are:
Using wigs and hairpieces to camouflage hair loss .
Taking medications such as Rogaine or Propecia to combat hair loss.
Undergoing a Follicular Unit Extraction (FUE) procedure.
For patients considering a hair transplant, Dr. Umar uses his patented Dr.UGraft FUE technology which has the ability to pull finer hair follicles from places like the nape of the neck for a more natural look.
What does a Dr.UGraft 

™

female hair transplant for traction alopecia cost?
The cost of a hair transplant procedure varies based on the severity of the patient's hair loss. Some important factors of this include the severity, the goals of the patient and the technique being employed.The best way to get an accurate estimate is by consulting with an experienced hair surgeon such as Dr. U.
Have more questions about female traction alopecia treatment? Use the button below to ask Dr. U.
Further Reading:
Read about Dr.UGraft treatment options for female hair loss patients.
Learn more about financing options at Dr. U Hair Clinic.